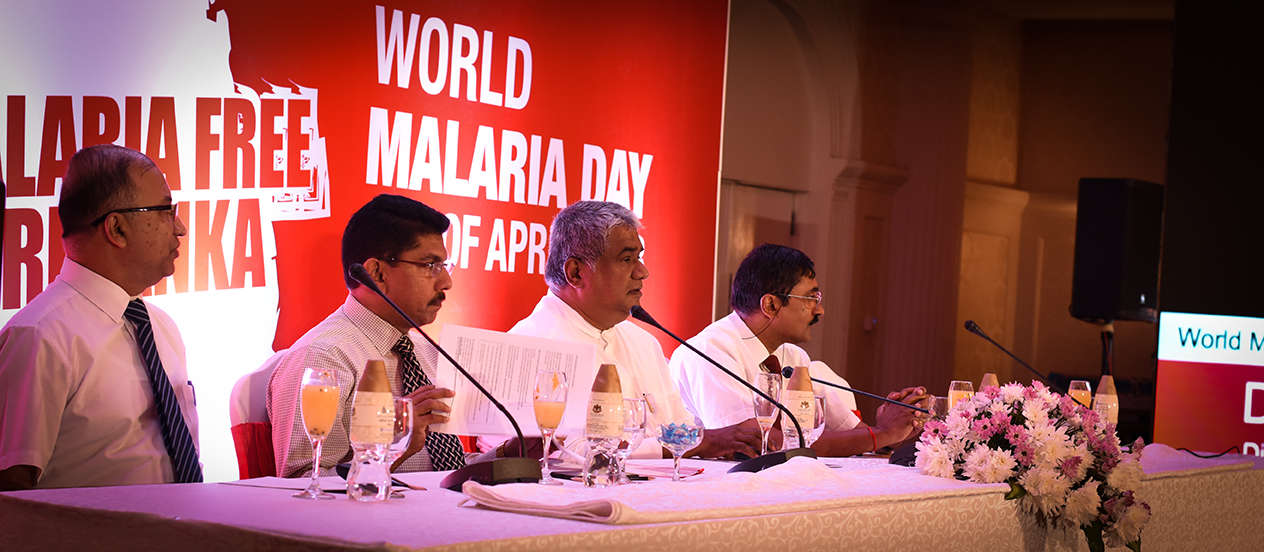 The World Malaria Day
25 April 2018
The Anti Malaria Campaign of the Ministry of Health organized the media briefing on 24th of April 2018 to commemorate the world malaria day which falls on 25th of April every year. The theme of the world malaria day 2018 –"MALARIA – FREE SRI LANKA".
Hon. Faizal Cassim, Acting Minister of Health, Dr. Anil Jasinghe, the Director General of Health Services, Dr Sarath Amunugama, the Deputy Director General of Public Health Services 1 and Dr. HDB Herath, the Director of Anti Malaria Campaign together with many other dignitaries from the Ministry of Health and from other stakeholder organizations gathered at the Kingsbury Hotel for the media briefing on 24th of April to raise public awareness on sustaining malaria elimination status.
The focus of the briefing was to promote the public awareness on prevention of re-introduction of malaria to the country. An exhibition was displayed. The knowledge was shared on malaria parasite species, identified new vector mosquito A. stephensi, vector control methods such as lavivorous fish. The prophylaxis treatment for the travelers to malaria epidemic country was also emphasized.
The upgraded official website of the Anti malaria Campaign was launched by the Acting Minister of Health. A series of new video and audio clips produced by the campaign were also released on this day.
Sri Lanka was devastated by the deadly disease malaria in the past. Due to commendable work of the health workers in the Anti Malaria Campaign of the Ministry of Health and the community, indigenous malaria was eliminated from the country in 2012. Sri Lanka commemorated its sixth successful year of malaria free status.
The AMC continues to carry out surveillance at port of entries and screening of high risk population such as pilgrims, refugees, gem traders along with other parasitological surveillance, entomological surveillance. The prophylaxis treatments are initiated to officers of United Nation's peace keeping missions and travelers to malaria epidemic countries. Early detection and prompt treatment is important in the management of imported malaria.
Hon. Faizal Cassim announced that it is our responsibility to sustain the malaria free status and prevent malaria re-introduction to the country through enhanced public awareness.
To see more images click below