History of Antimalaria Campaign | Finance Branch
Anti-malaria campaign was established in 1911.finance section is a specialized component of the anti-malaria campaign. Its function's decentralized in 1989.
Currently the anti-malaria finance section headed by the accountant under the supervision of director anti-malaria campaign directorate coming under the ministry of health.
The anti-malaria campaign finance section is responsible for the control of the government funds in an efficient and effective manner, it helps to achieve goals and objective of the anti-malaria campaign.
Former Accountants
Mr.Subramanium
Mr.Jayarathne
Mr.Anthony
Mr.Kadirawelu
Mrs.Indrani De Silva
Mrs.G.Subramanium
Current Organization Structure of Finance Branch | Anti Malaria Campaign
Key : DA: Development Assistant; MA: Management Assistant; HA: Health Assistant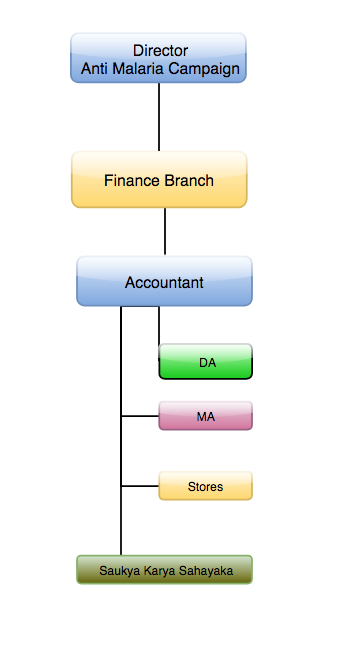 Main Duties of the finance section
Preparation of the salaries of all the employees working under AMC
Estimate budgets for the following year and use allocated budget in efficient and effective manner
Reporting all income and expenditure to the treasury through the ministry of health and, Nutrition & Indigenous Medicine.